Important Update
In-sanctuary worship will resume Sunday, May 24th, at 10:30am. At this time, this will be our only service each week.
Our greeters will make sure our three main sets of double doors are open before and after church. We will also have hand sanitizer available when you arrive for church and when you leave. All classrooms and offices will be off limits with the exception of the nursery and restrooms.
During worship, we will be using every other row for seating. Unless sitting with your family, please do your best to leave the middle of the pew open to observe social distancing.
We are discontinuing our meet and greet, and are asking that you refrain from shaking hands before and after the service. For the time being, we will not be passing the plates for offering. Instead, tables will be set up in the back of the sanctuary with offering boxes and tithe envelopes available.
To tithe, give or donate you may also:
Tithe or donate from this page
Mail checks to Franklin BMC at 6000 S. Dixie Hwy Franklin, OH 45005
Text the word GIVE to 833-421-0414
You can also find us on Facebook and YouTube.
staff
Lots of people involved.
Our friendly staff are always welcoming and would love to see you at our next group get-together.
Need help? Call us at
(937) 746-1467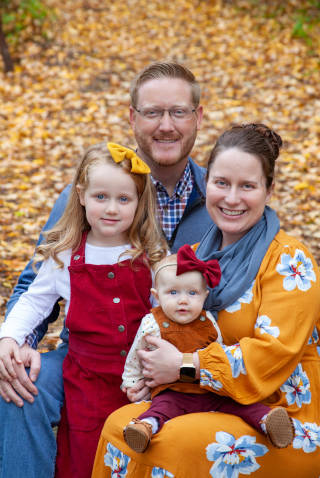 Rev. Brian Wardlaw Jr.
Pastor
Brian Wardlaw, along with his wife Beth and daughter Gracelyn, arrived as the Senior Pastor at the Franklin Bible Methodist Church in April of 2018.
In May of 2019, Brian, Beth, and Gracelyn were excited to add Olivia Wardlaw to their family.
Brian's pastoral ministry began in 2010 as a Youth Pastor in Lakeworth, FL while attending Hobe Sound Bible College.
In December of 2012, Brian and Beth became the Assistant Pastor in Covington, Georgia, and in the spring of 2013, Brian graduated from Hobe Sound Bible College with his degree in Ministerial Studies.
Brian loves spending time with family and friends, and in his free time, he enjoys hunting and playing sports.
Contact Info
SErvices
We gather every Sunday & Wednesday
Sunday
9:30am
Sunday school

Little People (3-5)
Children (6-11)
Youth (12-18)
Adult
Sunday
10:30am
Morning Worship

Little People's Worship (3-5)
Wednesday
7pm
Bible study and Community Groups
MINISTRIES
We are a God-exalting, Christ-centered, Spirit-led church.
Sunday School and Kids Church
Interactive classes are held for all age groups at 9:30 AM during Sunday School.
Classes are designed to strengthen relationships with Christ at each age level.
Little Peoples Class (ages 3-5)
Kids Church (ages 6-11)
Teens Class (ages 12-18)
Adult Class (19+)
Bible Study and Community Groups
Throughout the year, there are times of corporate meeting in the sanctuary on Wednesday evenings, and seasons of smaller group meetings in our homes we call Community Groups.
Wednesday evening Bible Study begins at 7 PM and is based on worshipping the Lord through God's Word and corporate prayer.
Community Groups help draw us closer together relationally, while we also focus on discipleship and answering the difficult questions of life with a biblical worldview.
Sunday Worship
Our Sunday services at 10:30 AM and 6 PM offer traditional worship where God's presence is sensed through singing, corporate prayer, and the preaching of God's Word.
Youth Group
Meets at 6 PM on Sunday evenings. This time is specifically designed for youth to draw closer to God, each other, and to specifically deal with issues teens face in today's world.
Nursing Home Bible Study
Bible Studies are held at the Spring Hills Assisted Living Facility in Middletown on Sunday mornings at 9:30 AM and on Tuesday afternoons at 1 PM.
donate
Give once or recurring
About
We endeavor to live out the following values in a gracious, nurturing community.
Biblical Authority – We acknowledge the Wo